Top 10 Single Board Computers SBC 2016
SBC or Single Board Computers are Becoming very popular around Makers and developers giving them more flexibility and access to complex projects making here's a list of top 10 SBC for 2016 :
---
BeagleBone Green
 What is SeeedStudio BeagleBone Green?
SeeedStudio BeagleBone Green (BBG) is a joint effort by BeagleBoard.org and Seeed Studio. It is based on the open-source hardware design of BeagleBone Black and developed into this differentiated version. The BBG has included two Grove connectors, making it easier to connect to the large family of Grove sensors. The on-board HDMI is removed to make room for these Grove connectors.
Specs:
Processor: AM335x 1GHz ARM® Cortex-A8
512MB DDR3 RAM
4GB 8-bit eMMC on-board flash storage
3D graphics accelerator
NEON floating-point accelerator
2x PRU 32-bit microcontrollers
Connectivity
USB client for power & communications
USB host
Ethernet
2x 46 pin headers
2x Grove connectors (I2C and UART)
Software Compatibility
Debian
Android
Ubuntu
Cloud9 IDE on Node.js w/ BoneScript library
plus much more
---
DragonBoard 410c
The DragonBoard™ 410c
is the first development board based on a Qualcomm® Snapdragon™ 400 series processor. It features advanced processing power, Wi-Fi, Bluetooth connectivity, and GPS, all packed into a board the size of a credit card. Based on the 64-bit capable Snapdragon 410 processor, the DragonBoard 410c is designed to support rapid software development, education and prototyping, and is compliant with the 96Boards Consumer Edition specification. All this makes it ideal for enabling embedded computing and Internet of Things (IoT) products, including the next generation of robotics, cameras, medical devices, vending machines, smart buildings, digital signage, casino gaming consoles, and much more.
Feature Highlights
OS Support:Android 5.1 (Lollipop) on Linux Kernel 3.10, Linux based on Debian 8.0, and Windows 10 IoT Core
CPU:Quad-core ARM® Cortex® A53 at up to 1.2 GHz per core with both 32-bit and 64-bit support
Memory/storages:1GB LPDDR3 533MHz / 8GB eMMC 4.5 / SD 3.0 (UHS-I)
Graphics:Qualcomm Adreno 306 GPU with support for advanced APIs, including OpenGL ES 3.0, OpenCL, DirectX, and content security
Video: 1080p@30fps HD video playback and capture with H.264 (AVC), and 720p playback with H.265 (HEVC)
Camera Support:Integrated ISP with support for image sensors up to 13MP
Connectivity and Location: 

Wi-Fi 802.11 b/g/n 2.4GHz, integrated digital core
Bluetooth 4.1, integrated digital core
Qualcomm® IZat™ location technology Gen8C
On-board Wi-Fi, BT and GPS antenna

I/O Interfaces:HDMI Full-size Type A connector, one micro USB (device mode only), two USB 2.0 (host mode only), micro SD card slot

Note: Micro USB (device mode) and USB 2.0 (host mode) are mutually exclusive and cannot be operated at the same time

Expansion:

One 40-pin low speed expansion connector: UART, SPI, I2S, I2C x2, GPIO x12, DC power
One 60-pin high speed expansion connector: 4L MIPI-DSI, USB, I2C x2, 2L+4L MIPI-CSI
Footprint for one optional 16-pin analog expansion connector for stereo headset/line-out, speaker and analog line-in.
The board can be made compatible with Arduino using an add-on mezzanine board
---
Raspberry Pi 3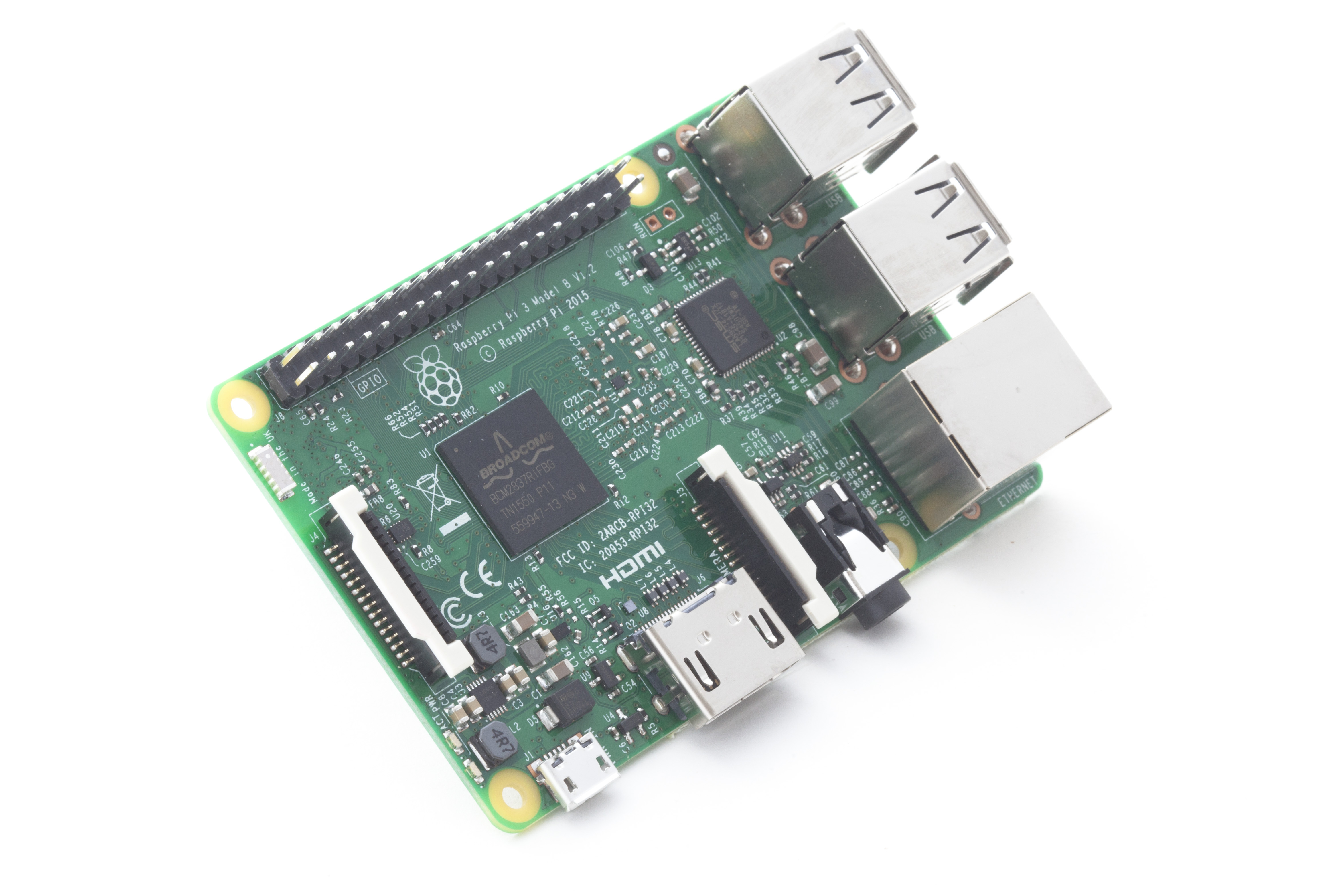 ---
The Raspberry Pi 3
is the third generation Raspberry Pi. It replaced the Raspberry Pi 2 Model B in February 2016. Compared to the Raspberry Pi 2 it has:
A 1.2GHz 64-bit quad-core ARMv8 CPU
802.11n Wireless LAN
Bluetooth 4.1
Bluetooth Low Energy (BLE)
Like the Pi 2, it also has:
1GB RAM
4 USB ports
40 GPIO pins
Full HDMI port
Ethernet port
Combined 3.5mm audio jack and composite video
Camera interface (CSI)
Display interface (DSI)
Micro SD card slot (now push-pull rather than push-push)
VideoCore IV 3D graphics core
The Raspberry Pi 3 has an identical form factor to the previous Pi 2 (and Pi 1 Model B+) and has complete compatibility with Raspberry Pi 1 and 2.
We recommend the Raspberry Pi 3 Model B for use in schools, or for any general use. Those wishing to embed their Pi in a project may prefer the Pi Zero or Model A+, which are more useful for embedded projects, and projects which require very low power.
---
Banana Pi
---
What is Banana Pi M64?
Banana Pi BPI-M64 is a 64-bit quad-core mini single board computer. It features 2GB of RAM and 8GB eMMC. It also has onboard WiFi and BT. On the ports side, the BPI-M64 has 2 USB A 2.0 ports, 1 USB OTG port, 1 HDMI port, 1 audio jack, and lastly a DC power port.
Also being a member of the Banana Pi family, the M64 is a big jump from the octa-core BPI-M3. This is because this Banana Pi BPI is named after its 64-bit SoC. BPI-M4 will be reserved for an upcoming board:p
Banana Pi is an open platform device, it is for anyone who wants to play and build with developer technology instead of simply using consumer technology. Backed by our community, starting a project and building servers is fun and rewarding. We welcome all companies, DIYers, and tech loving people within our community! Together, we can make a difference, we can discover our passions, inspire others, and build a practical project.
Key Features
1.2 Ghz Quad-Core ARM Cortex A53 64-Bit Processor.
2GB DDR3 SDRAM with 733MHz.
8 GB eMMC storage (16,32,64 options available).
WiFi (AP6212) & Bluetooth onboard.
---
RASPBERRY PI ZERO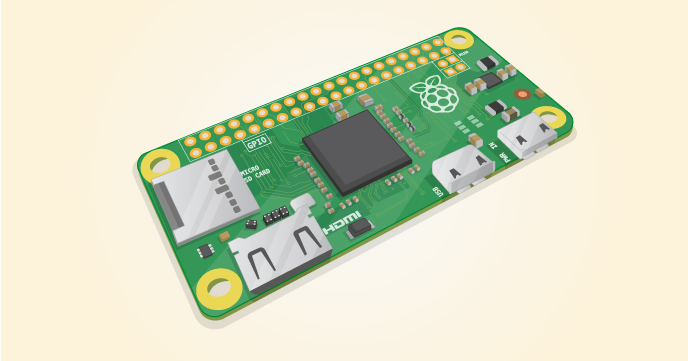 ---
The Raspberry Pi Zero
is half the size of a Model A+, with twice the utility. A tiny Raspberry Pi that's affordable enough for any project!
1Ghz, Single-core CPU
512MB RAM
Mini HDMI and USB On-The-Go ports
Micro USB power
HAT-compatible 40-pin header
Composite video and reset headers
---
Nano-Pi 2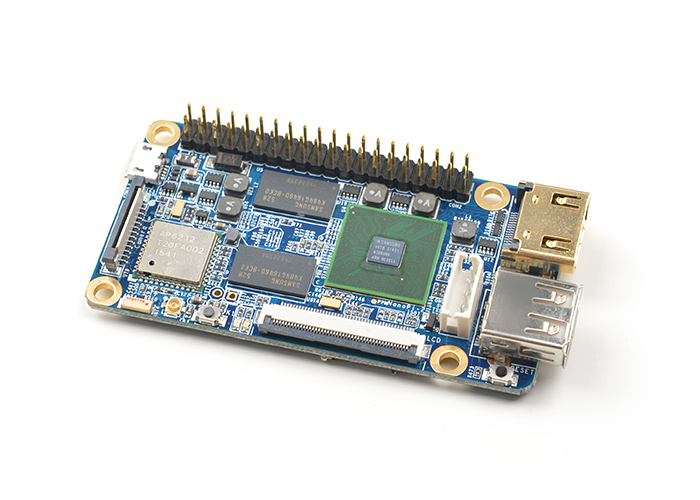 ---
The NanoPi2
is a newly released ARM board by FriendlyARM which advances the NanoPi by featuring Samsung's S5P4418 Quad Core A9@1.4GHz processor, 1G 32bit DDR3 RAM, rich video and display interfaces and two MicroSD slots. Its Quad Core A9@1.4GHz processor and 1G RAM make Linux and Android booted from a TF card fast and smoothly. Its adoption of the Raspberry Pi's GPIO pin header makes it compatible with both Raspberry Pi's external GPIO modules and Arduino's shield boards. Its two MicroSD slots make it support up to two external TF cards' storage. Its video and display interfaces include a DVP camera interface, an HDMI interface and an LCD interface which make it work with various popular display devices. The NanoPi2's on-board AP6212 Wireless and Bluetooth chip supports 802.11 b/g/n, AP mode, BLE 4.0 and HS mode.
On the NanoPi2's wiki FriendlyARM open sources its schematics, PCB, bootloader, kernel and file systems, and provides plenty of tutorials and code samples.
Features
SoC: Samsung S5P 4418 Quad Core Cortex-A9, 1.4G Hz
System Memory: 1GB 32bit DDR3 RAM
Storage: 2 x Micro SD Slot
Connectivity: AP6212 Wireless and Bluetooth, 802.11 b/g/n, AP mode, BLE 4.0, HS mode
HDMI: 1 x HDMI 1.4A, Type-A
LCD: 0.5 mm spacing 45 pin interface
Camera: 0.5mm spacing 24 pin DVP interface
GPIO: 40 pin GPIO pin header, compatible with Raspberry Pi's GPIO pin header
Debug Serial Port/UART0: 2.5 mm spacing 4pin interface
USB: 1 x USB 2.0 host Type-A; 1 x Micro USB for data transmission and power input
OS: Android and Debian
PCB: Six-layer
Dimension: 75 x 40 mm
Weight: 22 g
---
ODROID-XU4
---
ODROID-XU4
is a new generation of computing device with more powerful, more energy-efficient hardware and a smaller form factor.
Offering open source support, the board can run various flavors of Linux, including the latest Ubuntu 15.04 and Android 4.4 KitKat and 5.0 Lollipop.
By implementing the eMMC 5.0, USB 3.0 and Gigabit Ethernet interfaces, the ODROID-XU4 boasts amazing data transfer speeds, a feature that is increasingly required to support advanced processing power on ARM devices.
This allows users to truly experience an upgrade in computing, especially with faster booting, web browsing, networking, and 3D games.
Features
* Samsung Exynos5422 Cortex™-A15 2Ghz and Cortex™-A7 Octa core CPUs
* Mali-T628 MP6(OpenGL ES 3.0/2.0/1.1 and OpenCL 1.1 Full profile)
* 2Gbyte LPDDR3 RAM PoP stacked
* eMMC5.0 HS400 Flash Storage
* 2 x USB 3.0 Host, 1 x USB 2.0 Host
* Gigabit Ethernet port
* HDMI 1.4a for display
* Size : 82 x 58 x 22 mm approx.(including cooling fan)
---
---
Firefly
---
FireFly
There are two versions of this SBC. The $159 standard and the plus version, which runs at $259.
Both boards run on a 1.8Ghz quad-core RK3288 Cortex-A17 and feature the usual on-board peripherals, like Bluetooth, Wi-Fi, HDMI, Ethernet and so forth. However, the standard board comes with 2GB of DDR3 RAM and 16GB of eMMC flash. The extra $100 you will pay for the plus model will bump the RAM up to 4GB and the on-board flash up to 32GB. I am not sure if the expense is worth it. I think you would have to have a very specific need for that extra memory. Also, at these prices, I would really expect to see USB 3.0 ports. Also, after skimming through the firefly forums, it seems that anybody looking to get up and running with an SBC immediately might want to go for something with a better developed community.
---
Orange Pi
---
OrangePi
It's an open-source single-board computer. It can run Android 4.4 , Ubuntu, Debian, Rasberry Pi Image, it uses the AllWinner H3 SoC, and has 1GB DDR3 SDRAM
Other Orange Pi's Specs :

---
Images and Resources :
List : http://www.eetimes.com/document.asp?doc_id=1328716&page_number=1
BeagleBoard Green : https://beagleboard.org/green
DragonBoard : https://developer.qualcomm.com/hardware/dragonboard-410c
Pi 3 Model B : https://www.raspberrypi.org/products/raspberry-pi-3-model-b/
Banana Pi : http://www.banana-pi.org/
Pi Zero : https://www.raspberrypi.org/products/pi-zero/
Nano Pi : http://nanopi.io/nanopi2.html
ODROID-XU4 : http://www.hardkernel.com/main/products/prdt_info.php?g_code=G143452239825
FireFly : http://en.t-firefly.com/en/
Orange Pi : http://www.orangepi.org/